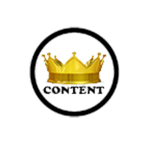 Content is King
So, you have a website? Organized content is the best content.  Help the search engines help you. You got them there, now make them take action.
Web design includes more than building a website with a pretty logo and graphics. A well-designed site isn't useful unless people actually make it to the site to visit, find the information to be useful, and ultimately contact you because they're interested in what you have to offer them. There are a few things to consider when developing the most important part of your website…your content.
---
Organized content is the best content. 
Help your visitors find what they they're looking for, by organizing your content while keeping them in mind, ultimately guiding them through the decision-making process, which hopefully will include your business at the end of it! It's helpful to create separate pages for individual products/services your business offers. Include a helpful description, videos and imagery that support each section/page. Entice visitors to share your site or content with colleagues. Provide them useful information, that they may bookmark your site to refer back to. Ultimately, you want to remain top of mind in your potential customer's thoughts.
---
Help the search engines help you. 
While developing the content for your website, it's important to keep the search engines in mind. Researching keyword phrases prior to publishing is very important. Where do most people go to search for anything? Probably to a popular search engine…and you want to make sure the search engine has what it needs to tell your prospects about you. Your content should be optimized for the search engines, including words and phrases that people will likely search for pertaining to your business. SEO helps move your website up in the rankings. The closer your website is to the first page, the more likely you are to generate more traffic, and ultimately more potential buyers.
---
You got them there, now make them take action.
Congratulations, you have gotten visitors to your site! You have kept in mind that there is a decision to be made as a result of the searching. Encourage these prospects to take the next step by including a "call to action": subscribe to your blog, download a free evaluation, contact you for more information, etc. Creating an interactive website complete with attractive graphics and well developed content will keep your prospects on your site longer, making it more likely that they will buy from you instead of your competitors.